Greenhouse & Education Center 
At The Denny Farrell Riverbank State Park Greenhouse and Education Center in Harlem, The Hort offers free and low cost programs to community members, park visitors, and school groups.
Why We Care
Denny Farrell Riverbank State Park is Harlem's collective backyard. Residents and visitors come for relaxation, recreation, and entertainment. Unique to this park is the Greenhouse and Education Center, a state-of-the-art greenhouse, classroom with cooking facilities, a hands-on learning garden, and a pollinator-filled native plant garden. At the Center, the Hort offers a wide range of programs to engage community in cultivating plants. We know urban horticulture improves human health and well-being; So, we create accessible opportunities to initiate and strengthen people-plant connections.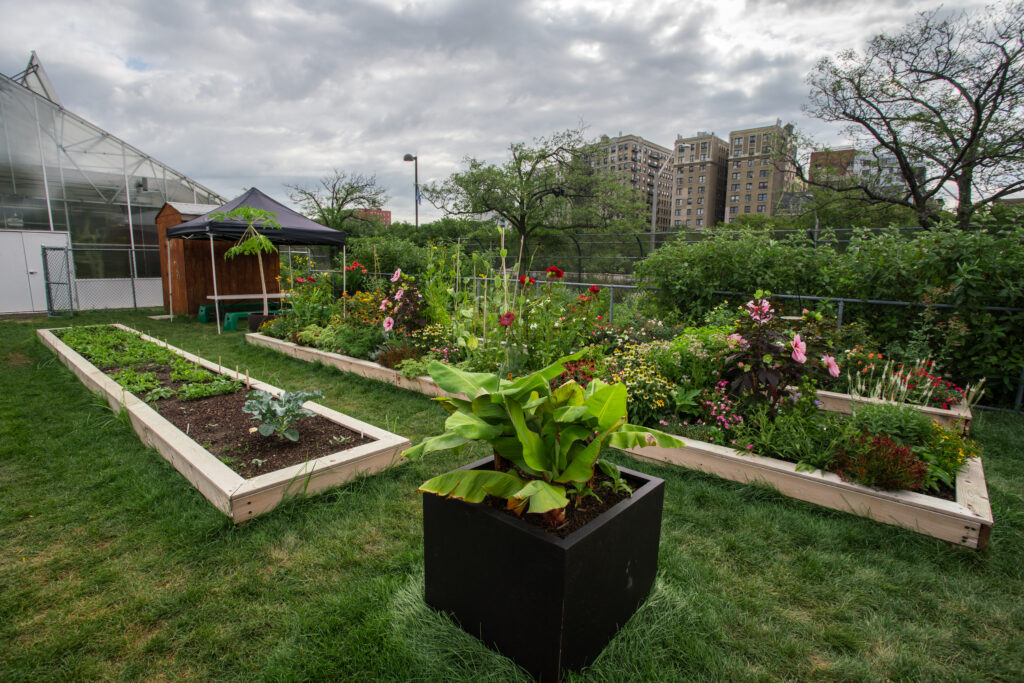 Annually, The Greenhouse and Education Center engages:
10,000 youth, parents, and seniors enjoy public programs
120 Interns will complete the apprenticeship program
2,000 students visited the center during school visits last year
2,500 New Yorkers participated in workshops and activities at the center
70 teachers received professional development at the center
600 people visited the center during open hours
How We Work
At the Center, as a community, we amend soil, sow, plant, propagate, prune, dead-head, water, weed, harvest, prepare vegetables, dry herbs, make tea, cook, create botanical art, and more. We have programs and classes for school groups, seniors, families, youth, and the general public. These include:
Family Gardening & Cooking Classes: Kids, parents and grandparents build skills in urban agriculture and food production in our greenhouse, learning garden and kitchen.    
Artmaking: Participants meet artists and learn creative skills that explore culture, local food and ecologies. Art classes can support therapeutic wellness.
Cooking with the Community (Sauté, Sizzle, Savor, Festive Fall Cooking): Anyone from the community is invited to learn how to cook and in preparing meals in our kitchen. 
Specialty Gardening Workshops and Talks: Participants are encouraged to take deeper dives in various activities such as seed-starting and therapeutic horticulture in presentations by experts in the field.   
Public Events/Community Celebrations: Seasonal celebrations invite Harlem neighbors to come together to celebrate. 
Volunteer Opportunities: Join us regularly to maintain our plants and gardens, give tours, or assist with our public events. 
Teen Apprenticeship:  Learn about urban horticulture while working as an intern at the Center. 
The Greenhouse and Education Center is open six days a week with programming taking place in the morning, afternoon, and evenings. A full listing of current offerings can be found here.